From the Save our Schools website: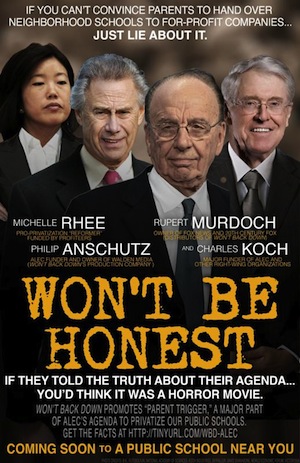 "Won't Back Down,"the film starring Maggie Gyllenhaal, Holly Hunter and Viola Davis, shows parent power triumphing when a mother, played by Gyllenhaal, leads parents in taking over a struggling school. It claims that the film is "inspired by actual events."But members of Parents Across America (PAA) say the film will tell a false story and spreads an anti-public-education message.
Parent Power- working in conjunction with teachers, administrators, Parent Teacher Associations and nationwide groups like PAA – has contributed to school improvement in many districts in America. These are parents' allies and professionals who want to overcome the many challenges facing our public schools without turning them into for-profit business enterprises.
The storyline about the parent takeover has no resemblance to reality, says New York parent activist Leonie Haimson, a PAA co-founder. "The movie is supposedly based on a process called the parent trigger, which purports to empower parents. But actually, the parent trigger has a track record of 100 percent failure and has pitted parents against parents and torn apart school communities where it has been tried," said Haimson. It can also lead to takeovers by for-profit charter schools.
She points out that "Won't Back Down" was produced by Walden Media, owned by conservative mogul Philip Anschutz, a major donor to anti-gay, creationist and other right-wing causes. Walden Media was the co-producer of the 2010 anti-public-education pseudo-documentary 'Waiting for 'Superman'.
Since the California Parent Trigger Law, called the Parent Empowerment Act, passed in early 2010, there have been only two attempted parent triggers, both in Southern California, and no successes.
In one case, when the parents realized that a charter school would then take over, they tried to rescind their petition and a California Superior Judge ruled against them. "Nearly 100 parents who had signed the original trigger petition later signed a second petition asking that their names be removed," the Reuters news service reported. "Many said they had not fully understood the campaign and didn't want to convert Desert Trails into a charter."
To find out more about the inaccuracies in the movie, parent trigger laws, the dangers to our students and what you actions you can take visit the sites below or download the flyer and spread the message.
"Won't Back Down," Parents Across America Responds[ MSWord]
"Won't Back Down," Parents Across America Responds [pdf]

Save Our Schools March: SaveOurSchoolsMarch.org, a grassroots movement dedicated to restoring educator, parent, student, and community influence over education policy and practice.


Parents Across America: http://parentsacrossamerica.org was founded by a group of activist parents who recognized the need to collaborate for positive change, rather than remain entrenched in separate battles in our local communities.
Other articles covering the topic:
What "Won't Back Down" Gets Wrong About Parental Involvement in Schools