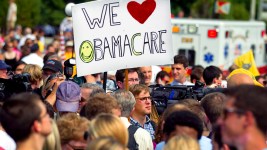 Today's Headlines:
City officials launch HIV testing campaign for DC employees
D.C. officials on Wednesday unveiled a new initiative designed to encourage HIV testing among the city's more than 30,000 municipal employees. Mayor Vincent Gray has authorized two hours of administrative leave for D.C. government employees to attend an HIV awareness workshop and get tested at either their doctor's office or at one of the city's publicly-funded clinics as part of the "Ask for the Test" campaign.
Does obesity affect school performance?
Obese children and teenagers face a slew of potential health problems as they get older, including an increased risk of diabetes, heart attacks, and certain cancers. As if that weren't enough, obesity may harm young people's long-term college and …
Down the Austerity Rabbit Hole
In economics, austerity refers to a policy of deficit-cutting by lowering spending often via a reduction in the amount of benefits and public services provided.
The results have been disastrous. Not only are the cuts harming the most vulnerable citizens and striking at the heart of the education and health systems, but the promised debt reduction – let alone economic stability – hasn't materialized. Quite the opposite, the debt crisis has worsened and social upheaval runs rampant through much of the continent. To put it mildly, austerity just isn't working.
WASHINGTON — The Supreme Court led by Chief Justice John G. Roberts Jr. upheld the heart of President Obama's healthcare law Thursday, ruling that the government may impose tax penalties on those who do not have health insurance.